Fire Extinguishing Control Panel ALPHA1000-1E+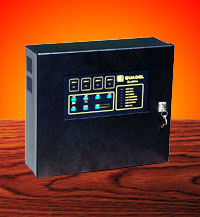 Control panel ALPHA-1E+ is a fire extinguishing control system of capacity of 1 extinguishing sector, projected for a completely individual work, but with the possibility of connecting into the information network (for ex. with a personal computer) via optional interfaces such as RS485/Ethernet/GSM-GPRS,...
All parameters essential for functioning of the system are programmed by an installer on site and are memorized in the non-volatile memory, prevented from any power loss.
Control panel is compatibile with all standard types of fire detectors (smoke, heat, flame detectors), with two-zone dependency applied on the software level. Comprehensive auto-diagnostics feautures, with a both detecting and activating line integrity control, gives to this system a high level of reliability while operating.
Panel is compliant with EN54-2, EN54-4 and EN 12094.